Since we were talking about this whole issue of generating attractiveness and meetcutes recently, let's look at the practical side of things. A few years ago, I explored the way men used the numerical scale to estimate the attractiveness of a woman (going from a 3 to an 9 per most men).
I found this particularly enlightening because before that many of the women who were commenting did not think this woman moved so drastically on the scale such as maybe 2-3 points at max or laughably from one of the peanut gallery detractors from a 4 to a 5 (probably jealous).
One of the more important points to note is that this woman at 132 lbs is maybe a 6ish or so to a lot of men but it's the last 12 lbs to the 124 lbs where she jumps to an 8. It's basically an exponential increase once you hit a certain threshold.
I suppose it's also time to explore the male side of things since we have been talking about how much a man can gain in attractiveness with certain amounts of muscle and body fat.
Realistically speaking, when most men start working out for a few months they're in the range of 20-30% unless they are a lot more overweight than that.
You only really start to see women's interest start to pick up once you hit the 15% range and a lot more at the 10-12% range. Most men won't hit the 3-4% and 6-7% in this picture so it's not worth talking about, but like the example of the woman above you start to get exponential interest once the muscles start to "pop" out as you have a good about of muscle and low body fat.
Depending on starting point, your average non-overweight male can probably hit the 15% range after 6-9 months and the 10-12% range after 12-24 months. This requires dedicated effort to achieve which obviously most men will not see the results they are looking for unless they are committed. It usually also requires some amount of dedication nutrition toward gaining muscle and cleaning up the junk food from the diet.
Physical activity like cardio or hiking or any activity where you don't actively lift to get muscles will generally not affect your overall attractiveness unless there are other factors like you are an expert in your field or sport or famous. Previously, when I said workout I guess some men seemed to take it the way that if they were physically active that it would increase attractiveness. It doesn't. You must workout and gain muscle mass and lose body fat.
There's a reason why most romance novel covers feature a somewhat shirtless muscular man with little body fat.
As an aside, men tend to like women in the range of 15-25 depending on the man in the above chart on the right, so there is a lot of variation. Most men tend to like 18-20% range the most so a little more lean than the 20-22. YMMV. For your average non-obese women lifting weights this takes only 6-12 months of lifting weights and good nutrition.
Again, In the 13-19% range it looks like you workout some and you may see a little bit more interest, but you won't see anything substantial until you're starting to push in the the 11-12% and 8-10% range.
Part of this, and what I didn't mention in the first image is that you're almost never shirtless unless you're at a pool. Therefore, unless you have a rather significant gain in muscle mass (10-20 lbs or more) and improved style (form fitting shirts and not baggy t-shirts or other clothes) then it's unlikely that women are going to be able to see gains in muscle mass. It's sort of like a woman that hides her figure underneath frumpy clothes. If she started wearing more form fitting dresses and skirts (though still modest) then she would draw much more positive attention from men.
The previous examples looked at the differences at body fat with only one picture at a level, but there is a decent amount of variation in body types at any specific level. Here's some examples of men at certain percentages.
16-18 is starting to work out and gain some muscle. Maybe a little interest.
12-15 is "Ohh, you workout seriously.." and they might start to feel your muscles.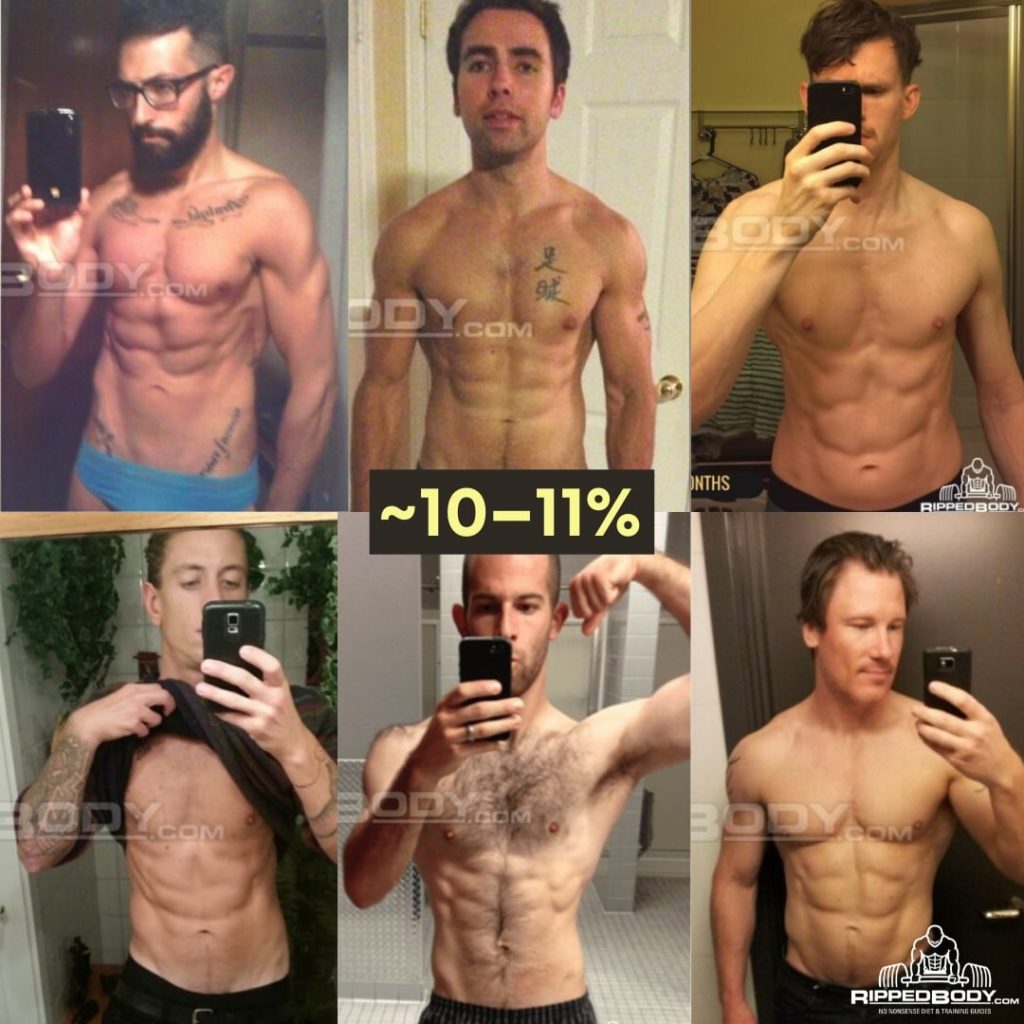 10-11 and lower is where you really get the "Yummy" from women in my experience and talking to men who also workout. There is significantly more interest from the general population of women than any of the other two above.
---
Conclusion
Most men would stand to gain at least 20 lbs of muscle and cut their body fat down to the < 15% range to start generating significant attraction in women if they are not naturally handsome. Unless you're very naturally handsome like Scott and others, improving attractiveness via physical musculature is probably the best way to make a good first impression.
However, it does require usually at least a year or more of dedicated time and effort. But the good part is that lifting weights is not only about looks, it builds good habits, a healthy body, and discipline and mental fortitude which help in a lot of other areas of life including spiritually. They're all interconnected.
I won't claim to rate how these men change from say 4-5 on a 10 scale to a 7-8 or something since I'm not a woman, but it would be nice to hear from the few women who read the blog what they think of the various changes in body fat and attractiveness (ignoring the face, obviously).