IFS studies has another article examining How Ideology and Religion Relate to Marriage. All charts were created by them.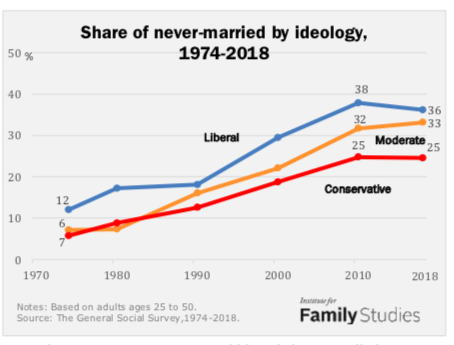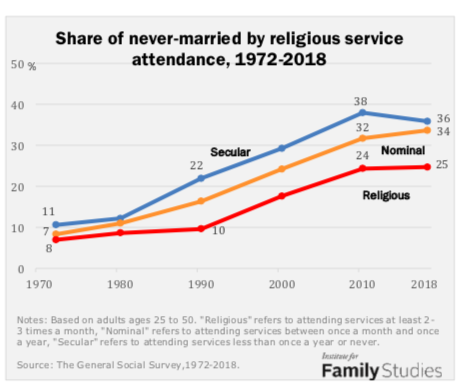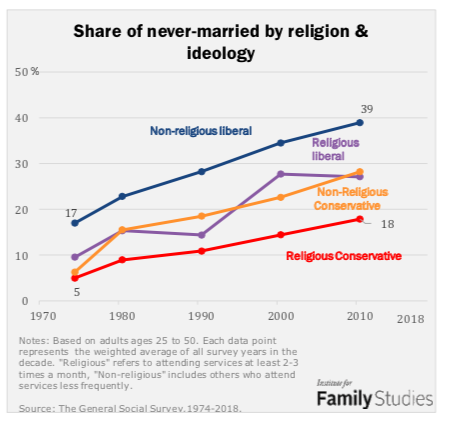 It actually appears that "religious conservatives" still marry off at a rate higher than the other groups, even with the disruptions in the potential marriage marketplace in regard to sex before marriage and many more requirements/qualifications for marriage.
I believe this trend continues even despite the cohabitation data we examined earlier. The overall increases in cohabitation don't make up for the gaps we see between the religious conservatives and the other groups. I believe this makes some sense because men and women who are targeting marriage are indeed more likely to get married than those who just fall into it.
There is still a significantly large gap from 5% -> 18% (or 8% -> 25% or 7% -> 25%) among religious conservatives is the big issue. EAPs ("Evangelical American Princesses") are pricing themselves out the market much like some of the women who were following Bushnell's sex and the city lifestyle. , even though Bushnell herself and other UMC ended up "sticking their landing." Likewise, the men who "failed to launch" or haven't been trained properly (by the Church or their family) to lead but instead to be "nice" and "wait for God to bring someone" and "godliness is attractive" are also likely being priced out on the bottom fringes.
All of this to say is that we need to be focused on teaching and discipling our children about these things, and mentoring men and women who want to learn as they are able. Only way you can bring about individual Christian success stories, which may add up to large success stories in the long run. There's no society wide fix, but God can use individuals to influence those around them.