It's been a couple years since my previous posts on this topic, so I went looking for more data. Here are the previous posts.
To review, the Southern Baptist study still appears to be one of a kind.
It appeared, on average, that if you meet a woman in the 21-24 range they would have about 30-40% chance of being a virgin and another 10ish% of having only oral but no vaginal sex. While this is not great in terms of stats, it's relatively than most people think there are now given the fairly lax attitude that many so-called Christians have toward sex now.
Fortunately, we have some more data now at least in the Evangelical segment of the population. From IFS study's Sex and the Evangelical.
All graphs are attributed to their blog.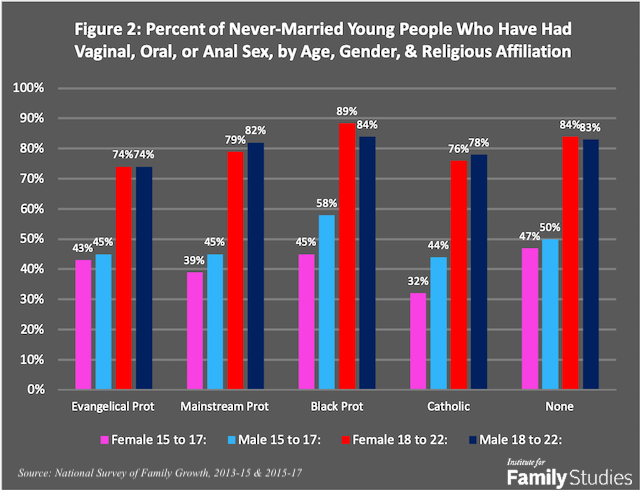 Overall, it appears all Christian denominations are not doing a good job of teaching sexual morality. It's interesting that it's rarer to find a male virgin than a female though, given that there were more male than female virgins in the Baptist study (though a small sample size).
The more important graphs are as follows though.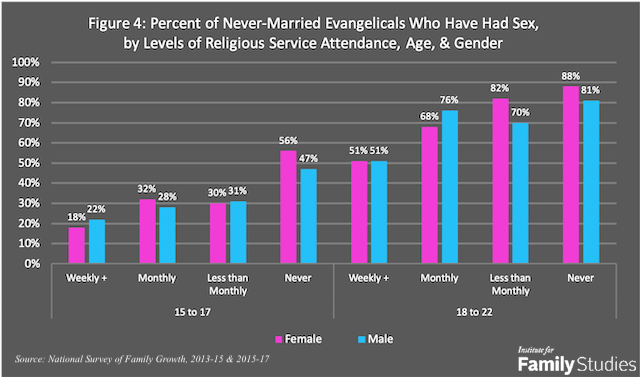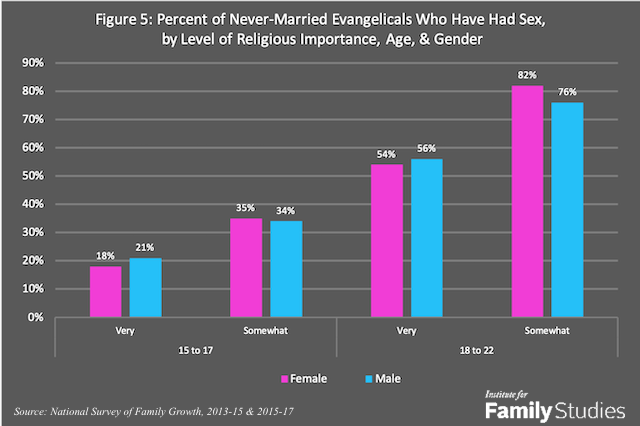 The Southern Baptist study specifically measured virginity, oral only, or both at marriage. These specific statistics take into only singles.
First, it appears the college age is where there is a drastic increase in sex which is fairly consistent with the evaluation that college age is where kids are unsupervised and go wild. 100-150% increases over all levels of religious service attendance and level of religious importance.
Second, since 15-17 isn't really marriageable ages, 18-22 is the most consistent thing that we have to look at compared to the 21-24 section in the Southern Baptist study where there was approximately 30-40% virgins and ~10% oral only at marriage.
This new data is approximately consistent with the Southern Baptist data if we consider that it is 50% across the whole 18-22 age group. We'd probably expect a distribution of virginity across this age group to be something like 60% at 18, 55% at 19, 50% at 20, 45% at 21, and 40% at 22. It's possible that it could be more exaggerated at the 18-19 and 21-22 ages, but I'd assume it's pretty close to that.
Third, level of religious service attendance (51% virginity in the 18-22 age group) and level of religious importance (54% in the 18-22 age group) clearly overlap to a great degree, but they probably don't fully overlap. I would expect if you take into account women who cite both that the virginity levels would not be around 51-54% but closer to about 60% given the two populations don't fully overlap.
---
The amount of attractive Christian virgins
I'm not going to do the whole analysis of the total population, but this gives us some semi-accurate data points to use to estimate the amount of women inside a Church who are attractive, Christian virgins.
In the previous posts, I estimated that about 50% of young adults 18-29 are not overweight or obese based on CDC data. Obviously, this skews greater the older you are, so the number is likely higher for a lower age group and lower for the older segment. In the case of younger marriageable age (18-24ish) of Christian virgins due to the data we have on those above, it's probably about 50-60% of women who are not overweight or obese.
Based on this, we would get a range of approximately:
Lower bound: 31% virginity (21-24 age group SB data) * 50% women who are not overweight or obese = 15.5% attractive Christian virgins
Mid bound: 54% (51-60% range) virginity (18-22 age group IFS data) * 55% women who are not overweight or obese = 29.7% attractive Christian virgins
Upper bound: 60% virginity (51-60% range) virginity (18-22 group IFS data) * 60% of women who are not overweight or obese = 36% attractive Christian virgins.
Obviously, this is spitballing with the data, but in a particular random Church you'd expect that of the women in the 18-24ish range there would be about 15-36% attractive Christian virgins or about 1 in 6.5 to 1 in 3. According to the Southern Baptist study, this approximately lines up with the overall data with the approximate percentage of virgins that actually got married — 5/9 data points with 2 above and 2 below. Some Churches are way better than others though.
Honestly, I want to know what they were doing at Church 1a and 2 to get 66.7% and 43% virgins at marriage. I also want to know what they were doing in Church 4b to get such a lower number.
When you get to the 25-29 age range though all bets are off. It's probably closer to 1 in 10 (10%) to 1 in 5 (20%). That's still not great, but again it's probably not that hard to get yourself into the top 20% of men nowadays so you have a shot if you put in the effort.
If you're a man, a 0-4 age gap is fairly normal, though once you start to go to 5-7 it becomes a bit more socially frowned upon. Thus, if you're seeking to marry a woman:
In the 18-24 age range for women, you generally have the best shot if you are 18-27 yourself and 18-31 if you can swing that 7 year gap
In the 25-29 age range for women, that would be 25-33 yourself and 25-36 for the older gap.
Old age gaps are generally on a case by case basis, and most women at least in their 20s probably wouldn't consider it that much.
Older than these ages, it's hard to say. It's definitely not hard to stand out in the Church but the prospects get worse.